Editor: 机械与车辆学院
The 15th Auto China opened on April 25, 2018. The world's first unmanned college formula car and the unmanned platform of "Ground Carrier" designed by Special Unmanned Vehicle Student Innovation Base, School of Mechanical Engineering, BIT, were invited to participate in the exhibition. As a college student's creative design and manufacture of vehicle work, a unique landscape of innovative work for college students has been formed in the exhibition hall.
Since 1990, Auto China has been successfully held for 14 times every two years, which has become an auto exhibition with a wide range of international influences with a brand value of the international automotive industry. It is also one of the world's most famous auto display as publishing and trading platforms. As one of the world's top-level car exhibition, the exhibition area is 220 thousand square meters, attracting more than 1200 exhibitors from 14 countries and regions in the world. There are totally 1022 cars in the exhibition, including 105 first-generation vehicles, 64 concept vehicles, and 174 new energy vehicles. The number of exhibitors and the quality of exhibition vehicles continued to maintain the world's leading level, attracting more than 10,000 reporters at home and abroad.
The vehicles designed and developed by BIT reflects the efforts and perspiration of everyone. "Gray shark" is the world's first unmanned college student formula car, using environment awareness technology of ladar and monocular camera, multi-source sensing information fusion technology, closed path space interior path planning technology and wheel-side motor independent drive technology and so on, which is the first unmanned car of Asia to take part in the competition in Germany and it also won the championship of FSC. The unmanned platform of "Ground Carrier" adopts the key technologies of high power density lithium battery drive, four-wheel motor drive, four-wheel independent steering, unmanned vehicle-robot coordinated control and integrated remote control of ground station. The weight of the vehicle is 1.2 tons. With good maneuverability, the maximum speed of it is 110km/h, the acceleration time in one hundred kilometers is only 5s, and the steering time is only 1.7s. During the exhibition, students' innovative achievements of BIT are widely concerned by many universities, automobile companies and parts and components enterprises.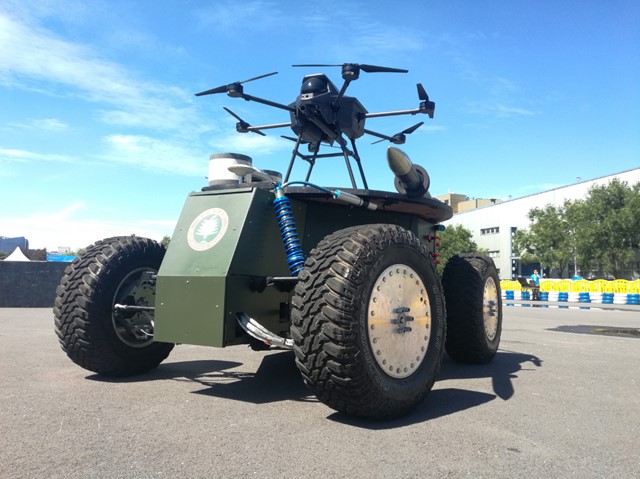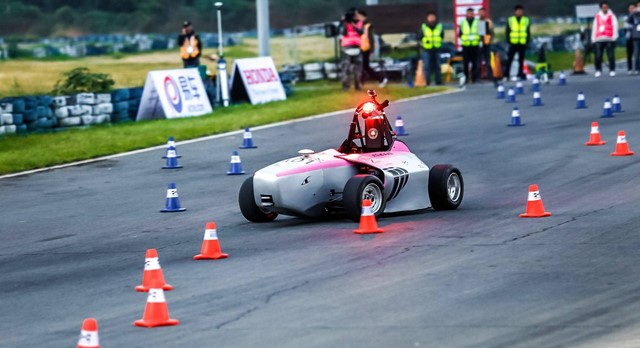 The Special Unmanned Vehicle Student Innovation Base consists of an unmanned formula racing team and an unmanned military vehicle team. Since 2015, the teams have been insisting on exploring cutting-edge technologies for unmanned vehicles and promoting the integrated development of production, learning and research. Their works have been unveiled at Auto China, 2016 "Crossing the Danger" Ground Unmanned System Challenge Race, 2016 China Association for Science and Technology Annual Meeting, 2017 Yangzhou Exhibition of Scientific and Technological Innovation Achievements and 2017 World Robot Conference, and won the championship of FSC, the first prize of the Beijing Challenge Cup and Grand Prize of BIT Century Cup, which is recognized by Li Yuanchao, the former Vice President, Liu Yandong, the former Vice Premier of the State Council and Wang Gang, the former Minister of Science and Technology, etc., and it was reported by CCTV, Science and Technology Daily, People's Liberation Army Daily, China Youth Daily and other media for more than 30 times.
After years of exploration, School of Mechanical Engineering has formed a scientific and technological innovation training model for undergraduates focusing on automotive innovation. The Special Unmanned Vehicle Student Innovation Base receives undergraduates and postgraduates from all universities. Through years of development, it has trained nearly 200 people. In recent years, based on the R&D achievements of the Base, the team has published 1 monograph in English, over 50 SCI and EI papers, accepted or authorized nearly 30 patents, and received more than 10 municipal and national technological innovation awards. With the innovation system based on talent cultivation as the core, the Base actively explores the mode of combining scientific research with students' scientific and technological innovation in new period and new demand, encourages graduate students from different colleges to use unmanned scientific research platform to carry out academic research, theoretical verification, encourages undergraduates to use unmanned driving platform and the derivative technology to participate in various scientific and technological competitions, and feed back to other various kinds of scientific and technological innovation projects, and gradually forms a new model for the graduate students engaged in theoretical research, exploring advanced technology, and the mode for the undergraduate students engaged in engineering design and understanding the development to cultivate innovation talents.