Editor: SME
Institute of Turbomachinery was previously called "Laboratory of Gas Turbine" and "Laboratory of Turbocharging Technology", which was founded in 1958. In 2011, the institute was reformed as "Institute of Turbomachinery". There are 13 faculties in the institute, including 4 professors, 5 associate professors, 1 lecturer, 1 senior experimentalist and 2 technicians. For postgraduate education, there are more than 20 PhD candidates and 50 Master candidates. The research interests cover Aero-thermodynamics of Turbomachinery, Design and Optimization of Turbomachinery, ICE Turbocharging Technology, Aircraft Gas Turbine Engine Design and Structure Integrity, New Concept Thermal Cycle and Science of Failure and Safety Service. More than 100 R&D projects have been performed in the institute: More than 10 projects funded of National Natural Science Foundation of China, including 1 key program; Equipment Key projects and pre-research projects, innovation projects and international cooperation projects, as well as domestic industries engineering projects. The abilities of the institute in design and testing technology in small size turbomachinery, especially in turbochargers, rank the first class in China. In the long-term cooperation with the engineering industries, the institute has helped the turbocharger manufactures achieving remarkable economic benefits. As a outcome, the research group in the institute won 6 different types of Ministerial and Provincial-level awards, among which, the achievement of "Design Theory, Method and Testing Technology for Vehicle Turbocharging System" was rewarded the second prize by the Ministry of Education of China.

Research Areas:
(1)Aero-thermal Dynamics in Turbomachinery
(2)Complex Flow Mechanism and Flow Control in Turbomachinery
(3)Design and Multi-Discipline Optimization of Axial/Radial Flow Turbomachinery
(4)Design, Optimization, Testing and Control Technology of Turbocharging System
(5)Rotor Dynamics, Fatigue Fracture and Reliability Assessment of Turbomachinery
(6)Design, Matching and Optimization of Gas Turbine
(7)Thermodynamic heat pump cycles and organic Rankine cycles

Research Outcomes:
(1) Acted as the director unit and carried out the design project of the turbocharging system for new series of armored vehicle engine. The institute has successfully implemented the two-stage turbocharging system onto the armored vehicle engine, which greatly enhanced the engine performance at low speed conditions and the altitude adaptability.
(2) Broke through the bottleneck of CFD/CAE technology and successfully setup the predicting-design system for turbocharging system. The institute has developed more than 10 series of turbocharger products with complete independent intellectual property rights. The estimated economic outcome achieved by the turbocharger manufactures is over 6 billion Yuan.
(3) Continuous research work in the flow control method in turbomachinery and raised several new concept of passive and active control methods. Proposed new design methods and ideas for endwall-blade blending, surge control, shock mitigation, leakage-free variable nozzle turbine and variable geometry compressor. In the past 5 years, more than 10 fundings have been approved by the National Natural Science Foundation. In 2017, the funding of "The Mechanism of Surge Symptom and Control" was granted as the KEY project of National Natural Science Foundation.
(4) Developed heat pump air conditioners for electric automobiles, and organic Rankine cycle waste heat recovery systems for heavy duty trucks. Developed new scroll machine and design, analysis methods for compression and expansion.

Supporting Facilities
Many kinds of test rigs have been setup to enhance the research abilities of the institute. The test rigs include: Air Supplier, Turbocharger Integrated Performance Test Rig, Turbocharger Reliability Test Rig, Turbine Dynamic Characteristic Test Rig, Simulated High-Plateau Engine Test Rig, Micro-Gas Turbine Combustion Test Rig, Vehicle Air Conditioning Test Rig, Schlieren Imaging System, Aerosol Generator.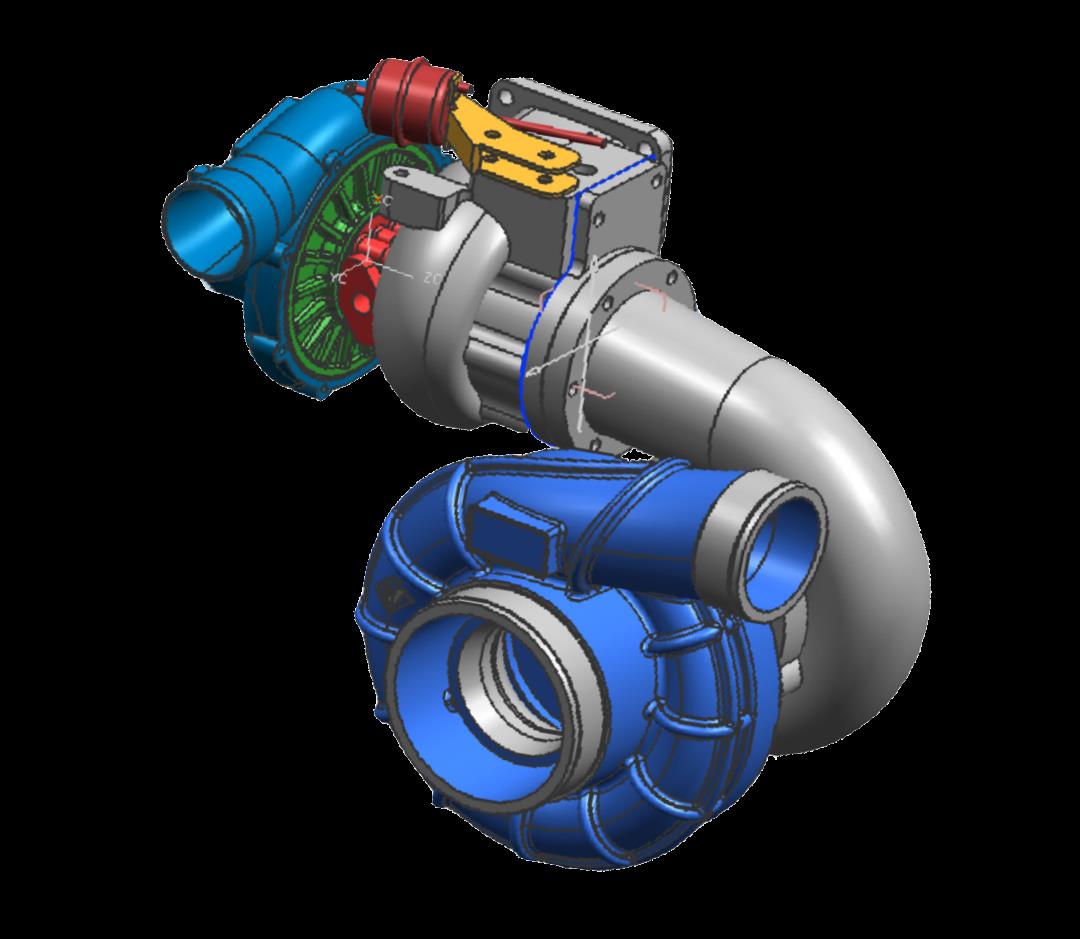 Figure 1: Numerical simulation results

Figure 2: Experimental setup